THE POWER OF MAGNESIUM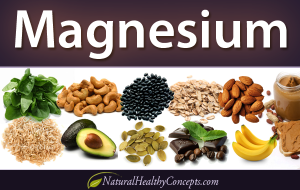 Did you know that conventional medicine is well aware of the power of magnesium? It is used in hospitals for constipation, heart arrhythmias, seizures and contractions in pregnancy. However it seems to not filter down to the average General Practice.
New research published in the Journal BMC Bioinformatics indicates that Magnesium's role in the human body is far more significant and complicated than previously imagined. http://kellybroganmd.com/magnesium-most-important-female-supplement/
HERE ARE SOME AMAZING FACTS:
All living things require magnesium.
It is found in over 300 enzymes in the human body.
In a recent study was identified to have 3,751 binding sites on human proteins indicating that a deficiency of magnesium has far more reaching effects on our systems than previously understood.
Magnesium helps maintain normal muscle and nerve function.
SOME SYMPTOMS OF MAGNESIUM DEFICENCY:
Constipation and other digestive issues
Low energy
Irregularities in menstrual flow and reproductive health.
Migraine headaches
Muscle cramping
For the past 40 years the research relevant to magnesium has been piling up at a steady rate of approximately 2,000 studies per year!
As chiropractors we encourage patients to supplement with magnesium for the following reasons:
IT HELPS WITH CHRONIC INFLAMMATION: It is magnesium that modulates cellular events involved in inflammation. Magnesium deficiencies feed the fires of inflammation and pain. By increasing extracellular magnesium concentration you decrease the inflammatory response. Magnesium literally puts the chill on inflammation. http://www.greenmedinfo.com/blog/inflammation-and-pain-management-magnesium
FOR PATIENTS WITH FIBROMYALGIA: It is a common deficiency in those diagnosed with Fibromyalgia. It has been clinically demonstrated to improve pain and tenderness in those it was administered.  http://www.greenmedinfo.com/blog/magnesiums-importance-far-greater-previously-imagined
MIGRAINE DISORDERS: Blood magnesium levels have been found to be significantly lower in those who suffer from migraine attacks. As blood tests do not accurately convey the true magnesium stores a recent article in the Journal of Neural Transmission titled, "Why all migraine patients should be treated with magnesium" argue, that oral magnesium is warranted in all migraine sufferers. http://www.greenmedinfo.com/blog/magnesiums-importance-far-greater-previously-imagined
BEST SOURCES OF MAGNESIUM IN THE DIET:
Green leafy vegetables
Nuts and Seeds
Raw Cacao (not processed chocolate)
HOW MAGNESIUM CAN BE DEPLETED FROM OUR BODIES:
By physical and emotional stress.
Alcohol consumption
High sugar diet
Fizzy soft drinks (they are high in phosphoric acid)
Any foods using genetically modified crops including soy, corn. Vegetable oils and sugar as they are sprayed with the herbicide glyphosate. This chelates minerals from the gut, including magnesium. http://www.mdpi.com/1099-4300/15/4/1416
OTHER WAYS TO INCREASE MAGNESIUM IN YOUR BODY:
A good quality magnesium supplement that has magnesium glycinate or magnesium citrate
Epsom salt baths in your nightly routine provides a good dose of this much needed mineral. Good if you are struggling with insomnia.
Enjoy increasing Magnesium in your body and experience the calming effects of nature's natural relaxant.